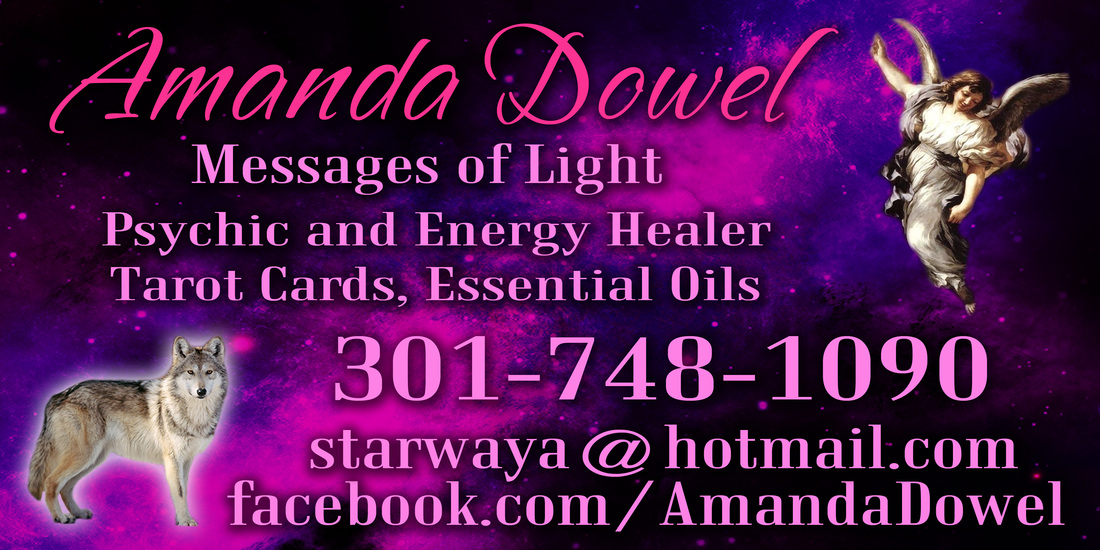 Disclaimer ~
Amanda Dowel's spiritual guidance and information is not intended to substitute for professional medical advice, diagnosis or treatment. All psychic information is given through spiritual connection to the other side, guidance, and also intuition and prayer not based on opinion. Do not disregard professional advice or delay seeking medical treatment. Energy can always change and is always moving so if there is something you do not like in the reading remember you can go out and change the outcome. Energy is always changing and things can shift. Amanda Dowel is not responsible or liable for any advice given by a professional, course of treatment, diagnosis or any other information. This is all based on spiritual guidance, prayer, intuitive and psychic impressions.
Readings ~
Amanda Dowel suggests to write all your questions down before a reading so that we can focus totally on you. You can also send photos.
CLICK HERE FOR A COMPLETE LIST OF SERVICES
11/8/2016 Member453370 ***** Fast detail psychic helpful reading

Consultant Shirley ***** Thank you so much for your insight into my moving situation today. Always a guiding light in a tunnel of darkness. Very kind and caring reader.


10/18/2016 Mary Jane23 ***** Thank you, thank you, for your message and positive out look for me, as of November 1st. I believe in this woman. She is kind, empathetic and I believe that what she hears and sees is true, and I pray to God it is. MJ


9/10/2016 mscarrie ***** Love her. She has really been in tune with everything. On target.


8/27/2016 Hello2016 ***** Always very reassuring to speak with Ancestor of Light. She is very positive, courteous, and sends healing when she talks to you. She can read very well and accurately.


8/27/2016 Consultant Shirley ***** Thank you so much for your guidance tonight! Are you aware that she is fantastic with dogs? I find her ability to read pets a real blessing. She is awesome in all areas and pets is a fantastic bonus!